Como se comportou este fundo
31/01/2020
Evolução de €1.000 (EUR)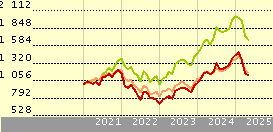 Fundo
9.1
33.5
4.7
46.1
7.7
+/-Cat
-1.4
13.0
9.1
8.3
5.1
+/-Ind
-5.7
12.1
2.4
-4.2
3.0
 
Benchmark: MSCI World/Information Tech...
Estatística Rápida
Valor
21/02/2020
 
USD 46.71
Valorização do dia
 
-2.98%
Categoria Morningstar™
 
Ações Sector Tecnologia
ISIN
 
LU0056508442
Fund Size (Mil)
31/01/2020
 
USD 2595.01
Share Class Size (Mil)
21/02/2020
 
USD 1535.85
Comissão Subscrição
 
5.26%
Ongoing Charge
10/02/2020
 
1.81%

*  This rating and report were issued for a different share class of this fund. The performance and fee structure of this class may vary from that referenced.
Analyst Report
Strong conviction in a skilled industry veteran's specialised process earns BGF World Technology a Morningstar Analyst Rating of Silver.Portfolio manager Tony Kim is a seasoned analyst and manager. He's spent 23 years analysing tech names, and he...
Click here to read this analyst report
Morningstar Pillars
People
Positive
Parent
Positive
Process
Positive
Performance
Positive
Price
Negative
Política de Investimento: BGF World Technology A2
O World Technology Fund visa maximizar a valorização do capital denominado em dólares americanos, principalmente através do investimento em todo o mundo, de pelo menos 80% dos activos líquidos do Fundo, em acções de sociedades que realizem uma parte substancial das actividades económicas na área da tecnologia. O Fundo perseguirá este objectivo investindo numa carteira global de valores mobiliários de sociedades em vários estágios de desenvolvimento, incluindo sociedades que o Consultor de Investimento considere como líderes ou coma possibilidade de se tornarem líderes nos seus nichos de produtos ou serviços. O Fundo pode restringir os mercados de valores mobiliários onde os seus activos irão ser investidos, e pode aumentar a parte dos activos investidos nos mercados de valores mobiliários nos Estados Unidos da América.
Returns
| | |
| --- | --- |
| Rent. Anualiz. % | 21/02/2020 |
| Ano | 15.01 |
| 3 anos anualiz. | 28.27 |
| 5 anos anualiz. | 21.91 |
| 10 anos anualiz. | 18.37 |
| | | |
| --- | --- | --- |
| Rendimento a 12 meses |   | 0.00 |
Gestão
Nome do gestor
Data de início
Tony Kim
03/07/2017
Criação do fundo
03/03/1995
Benchmark
Benchmark do fundo
Benchmark Morningstar
MSCI ACWI/Information Technology NR USD
MSCI World/Information Tech NR USD
Target Market
Role In Portfolio
Standalone / Core
Não específico
Component
Não específico
Otro
Não específico
Primary Objective
Preservação
Não específico
Crescim
Sim
Renda
Sim
Hedging
Não específico
Otro
Não específico
O que o fundo tem  BGF World Technology A2
31/10/2019
Morningstar Style Box®
Estilo de obrigações
Asset Allocation
 
% Long
% Short
% Net Assets
Acções
94.65
0.00
94.65
Obrigações
0.00
0.00
0.00
Liquidez
3.91
0.23
3.68
Outro
1.67
0.00
1.67
| | |
| --- | --- |
| 5 principais regiões | % |
| United States | 62.50 |
| Asia - Emerging | 13.27 |
| Eurozone | 6.61 |
| Latin America | 5.63 |
| Asia - Developed | 4.54 |
5 maiores sectores
%
Technology
61.57
Communication Services
18.76
Consumer Cyclical
12.28
Financial Services
4.46
Healthcare
1.46