Como se comportou este fundo
31/12/2019
Evolução de €1.000 (EUR)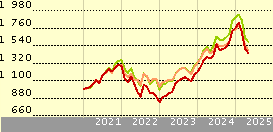 Fundo
24.6
3.1
17.9
7.6
32.2
+/-Cat
10.1
-2.5
6.5
6.4
-2.6
+/-Ind
6.9
-7.2
3.6
4.2
-6.7
 
Benchmark: Russell 1000 Growth TR USD
Estatística Rápida
Valor
24/01/2020
 
EUR 23.95
Valorização do dia
 
0.93%
Categoria Morningstar™
 
Ações EUA Cap. Grande Crescimento
ISIN
 
LU1136108674
Fund Size (Mil)
24/01/2020
 
USD 1061.82
Share Class Size (Mil)
24/01/2020
 
EUR 69.17
Comissão Subscrição
 
-
Ongoing Charge
12/11/2019
 
0.75%

*  This rating and report were issued for a different share class of this fund. The performance and fee structure of this class may vary from that referenced.
Analyst Report
T. Rowe Price US Blue Chip Equity hits on all the high points, earning a Morningstar Analyst Rating of Gold.The combination of a skilled manager and analyst team is a potent mix. Larry Puglia launched the strategy in 1993 in the United States. It...
Click here to read this analyst report
Morningstar Pillars
People
Positive
Parent
Positive
Process
Positive
Performance
Positive
Price
Positive
Política de Investimento: T. Rowe Price US Blue Chip Eq Q EUR
To increase the value of its shares, over the long term, through growth in the value of its investments. The fund invests mainly in a diversified portfolio of stocks of large and medium sized ?blue chip? companies in the United States. The fund may use derivatives for hedging and efficient portfolio management.
Returns
| | |
| --- | --- |
| Rent. Anualiz. % | 24/01/2020 |
| Ano | 7.59 |
| 3 anos anualiz. | 21.21 |
| 5 anos anualiz. | 16.56 |
| 10 anos anualiz.* | 19.04 |
| | | |
| --- | --- | --- |
| Rendimento a 12 meses |   | 0.00 |
Gestão
Nome do gestor
Data de início
Larry Puglia
05/02/2003
Criação do fundo
02/12/2014
Benchmark
Benchmark do fundo
Benchmark Morningstar
S&P 500 (Net of 30% withhg tax)
Russell 1000 Growth TR USD
Target Market
Role In Portfolio
Standalone / Core
Não específico
Component
Não específico
Otro
Não específico
Primary Objective
Preservação
Não específico
Crescim
Sim
Renda
Não específico
Hedging
Não específico
Otro
Não específico
O que o fundo tem  T. Rowe Price US Blue Chip Eq Q EUR
31/12/2019
Morningstar Style Box®
Estilo de obrigações
Asset Allocation
 
% Long
% Short
% Net Assets
Acções
99.76
0.00
99.76
Obrigações
0.00
0.00
0.00
Liquidez
0.24
0.00
0.24
Outro
0.00
0.00
0.00
| | |
| --- | --- |
| 5 principais regiões | % |
| United States | 91.65 |
| Asia - Emerging | 7.27 |
| Canada | 0.43 |
| United Kingdom | 0.34 |
| Europe - ex Euro | 0.20 |
5 maiores sectores
%
Technology
21.34
Consumer Cyclical
19.75
Communication Services
18.12
Healthcare
15.56
Financial Services
14.70