Como se comportou este fundo
30/09/2019
Evolução de €1.000 (EUR)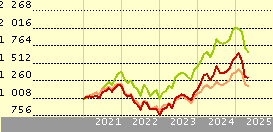 Fundo
19.9
14.4
29.5
7.8
29.0
+/-Cat
5.6
4.0
9.0
12.2
2.5
+/-Ind
3.2
-0.3
8.1
5.4
-6.7
 
Benchmark: MSCI World/Information Tech...
Estatística Rápida
Valor
18/10/2019
 
USD 49.26
Valorização do dia
 
-1.59%
Categoria Morningstar™
 
Ações Sector Tecnologia
ISIN
 
IE00B42NVC37
Fund Size (Mil)
11/10/2019
 
USD 3205.44
Share Class Size (Mil)
17/10/2019
 
USD 2162.39
Comissão Subscrição
 
5.00%
Ongoing Charge
18/02/2019
 
1.16%
Analyst Report
Polar Capital Global Technology benefits from experienced managers backed by a well-resourced team.The approach is characterised by the managers' belief that they can add value by investing in companies offering new, disruptive technologies. This...
Click here to read this analyst report
Morningstar Pillars
People
Positive
Parent
Positive
Process
Positive
Performance
Positive
Price
Negative
Política de Investimento: Polar Capital Global Tech I Inc
The investment objective of the Fund is long term capital appreciation by way of investing in a globally diversified portfolio of technology companies. Although the Fund may receive income in the form of dividends, interest and from other sources, income is not a primary consideration. The Fund will invest at least two thirds of its total assets in technology-related companies worldwide. The Fund will take a geographically diversified approach and operate within broad asset allocation ranges, but there are no specified limits on investing in any geographical region or single country.
Returns
| | |
| --- | --- |
| Rent. Anualiz. % | 18/10/2019 |
| Ano | 27.20 |
| 3 anos anualiz. | 21.86 |
| 5 anos anualiz. | 22.79 |
| 10 anos anualiz. | 19.70 |
| | | |
| --- | --- | --- |
| Rendimento a 12 meses |   | 0.00 |
| Frequência de Pagamento de Dividendos |   | Annually |
Gestão
Nome do gestor
Data de início
Nick Evans
19/10/2001
Ben Rogoff
19/10/2001
Criação do fundo
04/09/2009
Benchmark
Benchmark do fundo
Benchmark Morningstar
DJ Global Technology TR USD
MSCI World/Information Tech NR USD
Target Market
Role In Portfolio
Standalone / Core
Não específico
Component
Não específico
Otro
Não específico
Primary Objective
Preservação
Não
Crescim
Sim
Renda
Não
Hedging
Não
Otro
Não específico
O que o fundo tem  Polar Capital Global Tech I Inc
31/08/2019
Morningstar Style Box®
Estilo de obrigações
Asset Allocation
 
% Long
% Short
% Net Assets
Acções
94.01
4.07
89.95
Obrigações
0.00
0.00
0.00
Liquidez
10.05
0.00
10.05
Outro
0.00
0.00
0.00
| | |
| --- | --- |
| 5 principais regiões | % |
| United States | 76.61 |
| Asia - Emerging | 7.85 |
| Japan | 6.87 |
| Asia - Developed | 5.32 |
| Eurozone | 2.50 |
5 maiores sectores
%
Technology
85.17
Consumer Cyclical
7.47
Financial Services
3.86
Industrials
2.62
Consumer Defensive
0.46