Como se comportou este fundo
31/03/2019
Evolução de €1.000 (EUR)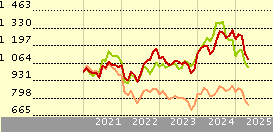 Fundo
20.5
-17.1
11.3
-6.8
18.6
+/-Cat
1.0
0.0
5.2
2.2
-0.1
+/-Ind
0.5
-7.6
7.5
-7.3
13.2
 
Benchmark: MSCI World/Biotechnology NR...
Estatística Rápida
Valor
17/04/2019
 
USD 548.76
Valorização do dia
 
-3.94%
Categoria Morningstar™
 
Ações Sector Biotecnologia
ISIN
 
LU0108459040
Fund Size (Mil)
17/04/2019
 
USD 1898.81
Share Class Size (Mil)
17/04/2019
 
USD 300.37
Comissão Subscrição
 
-
Ongoing Charge
19/02/2019
 
1.85%

*  This rating and report were issued for a different share class of this fund. The performance and fee structure of this class may vary from that referenced.
Analyst Report
Candriam Equities Biotechnology benefits from the vast experience of portfolio manager Rudi Van Den Eynde. He has run this fund since inception in April 2000, and his deep knowledge of the biotechnology industry has been central to the success of...
Click here to read this analyst report
Morningstar Pillars
People
Positive
Parent
Neutral
Process
Positive
Performance
Positive
Price
Negative
Política de Investimento: Candriam Eqs L Biotech C USD Cap
O sub-fundo permite aos accionistas o investimento numa carteira de acções mundiais no sector da biotecnologia. Pelo menos 2/3 dos activos líquidos serão sempre investidos em acções de sociedades que operem neste sector.
Returns
| | |
| --- | --- |
| Rent. Anualiz. % | 17/04/2019 |
| Ano | 10.95 |
| 3 anos anualiz. | 6.70 |
| 5 anos anualiz. | 13.05 |
| 10 anos anualiz. | 21.21 |
| | | |
| --- | --- | --- |
| Rendimento a 12 meses |   | 0.00 |
Gestão
Nome do gestor
Data de início
Rudi Van den Eynde
06/04/2000
Servaas Michielssens
01/01/2019
Criação do fundo
06/04/2000
Benchmark
Benchmark do fundo
Benchmark Morningstar
NASDAQ Biotechnology TR USD
MSCI World/Biotechnology NR USD
Target Market
Role In Portfolio
Standalone / Core
Não específico
Component
Não específico
Otro
Não específico
Primary Objective
Preservação
Não
Crescim
Sim
Renda
Não específico
Hedging
Não
Otro
Não específico
O que o fundo tem  Candriam Eqs L Biotech C USD Cap
28/02/2019
Morningstar Style Box®
Estilo de obrigações
Asset Allocation
 
% Long
% Short
% Net Assets
Acções
97.59
0.00
97.59
Obrigações
0.00
0.00
0.00
Liquidez
2.41
0.00
2.41
Outro
0.00
0.00
0.00
| | |
| --- | --- |
| 5 principais regiões | % |
| United States | 87.70 |
| Europe - ex Euro | 3.87 |
| Eurozone | 3.66 |
| Japan | 2.63 |
| Asia - Emerging | 1.00 |
5 maiores sectores
%
Healthcare
100.00