Como se comportou este fundo
31/07/2019
Evolução de €1.000 (EUR)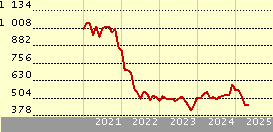 Fundo
-
-
24.8
8.6
31.8
+/-Cat
-
-
-
-
-
+/-Ind
-
-
-
-
-
 
Benchmark: -
Estatística Rápida
Valor
22/08/2019
 
EUR 21.48
Valorização do dia
 
-0.05%
Categoria Morningstar™
 
Ações Outros
ISIN
 
LU1339879832
Fund Size (Mil)
23/08/2019
 
USD 337.67
Share Class Size (Mil)
04/12/2018
 
EUR 27.10
Comissão Subscrição
 
6.00%
Ongoing Charge
01/02/2019
 
2.26%

*  This rating and report were issued for a different share class of this fund. The performance and fee structure of this class may vary from that referenced.
Analyst Report
Management experience and a proven, distinctive approach support Alger Small Cap Focus' Morningstar Analyst Rating of Silver.When manager Amy Zhang joined Fred Alger Management in early 2015 and took over this strategy, she was no stranger to...
Click here to read this analyst report
Morningstar Pillars
People
Positive
Parent
Neutral
Process
Positive
Performance
Positive
Price
Negative
Política de Investimento: Alger Small Cap Focus A EUH
The Sub-Fund seeks long-term capital appreciation by generally investing two thirds of its net assets in equity securities of companies that, at the time of purchase of the securities, have a total market capitalization within the range of companies included in the Russell 2000 Growth Index, as reported by the index as of the most recent quarter-end. This index is designed to track the performance of small capitalization stocks.
Returns
| | |
| --- | --- |
| Rent. Anualiz. % | 22/08/2019 |
| Ano | 29.01 |
| 3 anos anualiz. | 20.78 |
| 5 anos anualiz. | - |
| 10 anos anualiz. | - |
| | | |
| --- | --- | --- |
| Rendimento a 12 meses |   | 0.00 |
Gestão
Nome do gestor
Data de início
Amy Zhang
29/01/2016
Criação do fundo
26/02/2016
Benchmark
Benchmark do fundo
Benchmark Morningstar
Russell 2000 Growth TR USD
-
Target Market
Role In Portfolio
Standalone / Core
Não específico
Component
Não específico
Otro
Não específico
Primary Objective
Preservação
Não
Crescim
Sim
Renda
Não
Hedging
Não
Otro
Não específico
O que o fundo tem  Alger Small Cap Focus A EUH
31/05/2019
Morningstar Style Box®
Estilo de obrigações
Asset Allocation
 
% Long
% Short
% Net Assets
Acções
97.14
0.00
97.14
Obrigações
0.00
0.00
0.00
Liquidez
2.86
0.00
2.86
Outro
0.00
0.00
0.00
| | |
| --- | --- |
| 5 principais regiões | % |
| United States | 94.80 |
| Canada | 5.20 |
| Latin America | 0.00 |
| United Kingdom | 0.00 |
| Eurozone | 0.00 |
5 maiores sectores
%
Technology
46.03
Healthcare
33.01
Consumer Cyclical
8.04
Industrials
5.14
Consumer Defensive
4.73