Neuberger Bm US Rel Est Sec USD A MD
Como se comportou este fundo
31/05/2019
Evolução de €1.000 (EUR)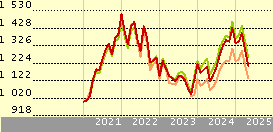 Fundo
-
5.4
-3.5
-2.2
22.4
+/-Cat
-
-2.1
4.7
0.3
6.2
+/-Ind
-
-5.3
5.2
-3.2
3.9
 
Benchmark: FTSE EPRA Nareit United Sta...
Estatística Rápida
Valor
21/06/2019
 
USD 11.53
Valorização do dia
 
-1.29%
Categoria Morningstar™
 
Imobiliário Indirecto América do Norte
ISIN
 
IE00B95QR487
Fund Size (Mil)
21/06/2019
 
USD 111.15
Share Class Size (Mil)
21/06/2019
 
USD 2.98
Comissão Subscrição
 
-
Ongoing Charge
05/02/2019
 
1.80%
Política de Investimento: Neuberger Bm US Rel Est Sec USD A MD
The Fund seeks total return through investment in real estate securities, emphasising both capital appreciation and current income. The Portfolio seeks to achieve its investment objective by investing on a diversified basis mainly in securities (including convertible bonds) issued by US real estate investment trusts ("REITs"). It should be noted that the Portfolio will not acquire any real estate directly.
Returns
| | |
| --- | --- |
| Rent. Anualiz. % | 21/06/2019 |
| Ano | 24.65 |
| 3 anos anualiz. | 6.80 |
| 5 anos anualiz. | - |
| 10 anos anualiz. | - |
| | | |
| --- | --- | --- |
| Rendimento a 12 meses |   | 3.71 |
| Frequência de Pagamento de Dividendos |   | Monthly |
Gestão
Nome do gestor
Data de início
Steve Shigekawa
01/02/2006
Brian Jones
01/02/2006
Criação do fundo
18/11/2015
Benchmark
Benchmark do fundo
Benchmark Morningstar
FTSE Nareit All Equity REITs TR USD
FTSE EPRA Nareit United States TR USD
Target Market
Role In Portfolio
Standalone / Core
Não específico
Component
Não específico
Otro
Não específico
Primary Objective
Preservação
Não específico
Crescim
Sim
Renda
Sim
Hedging
Não específico
Otro
Não específico
O que o fundo tem  Neuberger Bm US Rel Est Sec USD A MD
31/05/2019
Morningstar Style Box®
Estilo de obrigações
Asset Allocation
 
% Long
% Short
% Net Assets
Acções
92.92
0.00
92.92
Obrigações
0.00
0.00
0.00
Liquidez
7.08
0.00
7.08
Outro
0.00
0.00
0.00
| | |
| --- | --- |
| 5 principais regiões | % |
| United States | 97.42 |
| Canada | 1.46 |
| Eurozone | 1.12 |
| Latin America | 0.00 |
| United Kingdom | 0.00 |
5 maiores sectores
%
Real Estate
87.01
Communication Services
8.95
Financial Services
1.46
Consumer Cyclical
1.46
Technology
1.12