Como se comportou este fundo
31/05/2019
Evolução de €1.000 (EUR)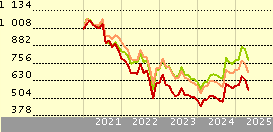 Fundo
14.7
-9.1
27.5
-25.6
17.7
+/-Cat
8.7
-9.7
1.0
-9.7
7.1
+/-Ind
12.0
-13.0
-7.9
-10.8
10.5
 
Benchmark: MSCI China NR USD
Estatística Rápida
Valor
21/06/2019
 
USD 12.96
Valorização do dia
 
-0.87%
Categoria Morningstar™
 
Ações China
ISIN
 
IE00B1W3X592
Fund Size (Mil)
21/06/2019
 
USD 369.52
Share Class Size (Mil)
21/06/2019
 
USD 1.89
Comissão Subscrição
 
-
Ongoing Charge
04/05/2019
 
2.25%
Analyst Report
GAM Star China Equity has suffered a huge blow with the departure of experienced and talented portfolio manager Michael Lai. Along with concerns about shrinking China-dedicated resources and uncertainties surrounding the investment process under...
Click here to read this analyst report
Morningstar Pillars
People
Neutral
Parent
Negative
Process
Neutral
Performance
Neutral
Price
Neutral
Política de Investimento: GAM Star China Equity C USD Acc
The investment objective of the Fund is to achieve capital appreciation through investment primarily in quoted equity and equity related securities listed on or dealt in any Recognized Market and which are issued by companies with principal offices or significant business activities in the People's Republic of China and Hong Kong. The Fund may invest up to 10% of its net assets, on a short term basis, in unquoted equity securities of these issuers and up to 15% of its net assets, on a short term basis, in Fixed Income Securities and preferred stock, where it is considered appropriate to achieve the investment objective the Fund.
Returns
| | |
| --- | --- |
| Rent. Anualiz. % | 21/06/2019 |
| Ano | 25.47 |
| 3 anos anualiz. | 10.55 |
| 5 anos anualiz. | 6.43 |
| 10 anos anualiz. | - |
| | | |
| --- | --- | --- |
| Rendimento a 12 meses |   | 0.00 |
Gestão
Nome do gestor
Data de início
Michael Lai
02/07/2007
Criação do fundo
28/04/2010
Benchmark
Benchmark do fundo
Benchmark Morningstar
MSCI China NR USD
MSCI China NR USD
Target Market
Role In Portfolio
Standalone / Core
Não específico
Component
Não específico
Otro
Não específico
Primary Objective
Preservação
Não
Crescim
Sim
Renda
Não específico
Hedging
Não específico
Otro
Não específico
O que o fundo tem  GAM Star China Equity C USD Acc
31/12/2018
Morningstar Style Box®
Estilo de obrigações
Asset Allocation
 
% Long
% Short
% Net Assets
Acções
98.80
0.00
98.80
Obrigações
0.00
0.00
0.00
Liquidez
1.27
0.07
1.20
Outro
0.00
0.00
0.00
| | |
| --- | --- |
| 5 principais regiões | % |
| Asia - Emerging | 82.95 |
| Asia - Developed | 13.08 |
| United States | 2.60 |
| Eurozone | 1.33 |
| Latin America | 0.03 |
5 maiores sectores
%
Consumer Cyclical
30.75
Technology
17.83
Real Estate
11.72
Financial Services
9.81
Consumer Defensive
7.89