Como se comportou este fundo
30-11-2018
Evolução de €1.000 (EUR)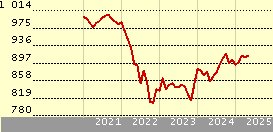 Fundo
6.0
-2.9
6.2
2.6
-4.3
+/-Cat
-
-
-
-
-
+/-Ind
-
-
-
-
-
 
Benchmark: -
Estatística Rápida
Valor
11-12-2018
 
EUR 13.10
Valorização do dia
 
-0.15%
Categoria Morningstar™
 
Obrigações Outros
ISIN
 
LU0539799634
Fund Size (Mil)
11-12-2018
 
USD 10477.13
Share Class Size (Mil)
11-12-2018
 
EUR 73.04
Comissão Subscrição
 
5.00%
Ongoing Charge
12-02-2018
 
1.32%

*  This rating and report were issued for a different share class of this fund. The performance and fee structure of this class may vary from that referenced.
Analyst Report
AB American Income's experienced and deep team has put the fund's broad flexibility to good use without taking excessive risk. It earns a Morningstar Analyst Rating of Bronze. This fund benefits from a deep pool of resources. AB veteran Paul...
Click here to read this analyst report
Morningstar Pillars
People
Positive
Parent
Neutral
Process
Positive
Performance
Positive
Price
Positive
Política de Investimento: AB American Income AT EUR H Inc
O Portfolio procura oferecer um alto nível de receita corrente com o potencial de valorização do capital pelo investimento em um portfolio diversificado de títulos de renda fixa denominados em dólar norte-americano. O Portfolio investe exclusivamente em títulos de renda fixa denominados em dólar norte-americano, incluindo títulos de baixo risco e de alto rendimento de emissores domiciliados dentro e fora dos EUA. Sob condições de mercado normais, um mínimo de 50% dos ativos do Portfolio será investido em títulos de baixo risco. No mínimo 65% dos ativos devem ser emitidos por emissores domiciliados dentro dos Estados Unidos.
Returns
| | |
| --- | --- |
| Rent. Anualiz. % | 11-12-2018 |
| Ano | -4.12 |
| 3 anos anualiz. | 1.40 |
| 5 anos anualiz. | 1.41 |
| 10 anos anualiz. | - |
| | | |
| --- | --- | --- |
| Rendimento a 12 meses |   | 2.71 |
| Frequência de Pagamento de Dividendos |   | Monthly |
Gestão
Nome do gestor
Data de início
Paul DeNoon
01-01-1998
Matthew Sheridan
31-01-2017
Click here to see others
Criação do fundo
10-09-2010
Benchmark
Benchmark do fundo
Benchmark Morningstar
15% BBgBarc US HY 2% Constrained ,  35% JPM EMBI Global TR USD ,  50% BBgBarc US Government TR USD
-
Target Market
Role In Portfolio
Standalone / Core
Não específico
Component
Não específico
Otro
Não específico
Primary Objective
Preservação
Não específico
Crescim
Sim
Renda
Sim
Hedging
Não específico
Otro
Não específico
O que o fundo tem  AB American Income AT EUR H Inc
31-10-2018
Renta Fixa
Maturidade efectiva
6.90
Duração
5.52
Morningstar Style Box®
Estilo de renta fija
Asset Allocation
 
% Long
% Short
% Net Assets
Acções
0.14
0.00
0.14
Obrigações
156.70
11.13
145.57
Liquidez
6.16
55.46
-49.30
Outro
3.59
0.00
3.59