Como se comportou este fundo
31/12/2018
Evolução de €1.000 (EUR)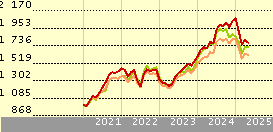 Fundo
67.2
16.3
0.4
32.5
-11.5
+/-Cat
10.4
8.2
-2.6
8.8
-3.3
+/-Ind
26.2
11.7
-1.2
10.6
-8.9
 
Benchmark: MSCI India NR USD
Estatística Rápida
Valor
18/01/2019
 
USD 21.39
Valorização do dia
 
-0.17%
Categoria Morningstar™
 
Ações Índia
ISIN
 
LU0333810934
Fund Size (Mil)
18/01/2019
 
USD 1911.48
Share Class Size (Mil)
18/01/2019
 
USD 34.83
Comissão Subscrição
 
-
Ongoing Charge
14/02/2018
 
1.00%

*  This rating and report were issued for a different share class of this fund. The performance and fee structure of this class may vary from that referenced.
Analyst Report
GS India Equity's strong investment team and robust approach make it an attractive offering.Hiren Dasani had big shoes to fill when he succeeded Prashant Khemka on 19 April 2017 as lead portfolio manager for GS India Equity. He had worked with...
Click here to read this analyst report
Morningstar Pillars
People
Neutral
Parent
Neutral
Process
Positive
Performance
Neutral
Price
Neutral
Política de Investimento: GS India Equity I Inc USD
Carteira "Goldman Sachs Índia Equity "vai investir em títulos de emissores da Índia
Returns
| | |
| --- | --- |
| Rent. Anualiz. % | 18/01/2019 |
| Ano | -0.36 |
| 3 anos anualiz. | 9.27 |
| 5 anos anualiz. | 17.67 |
| 10 anos anualiz. | 18.69 |
| | | |
| --- | --- | --- |
| Rendimento a 12 meses |   | 0.44 |
| Frequência de Pagamento de Dividendos |   | Annually |
Gestão
Nome do gestor
Data de início
Hiren Dasani
01/05/2017
Criação do fundo
26/03/2008
Benchmark
Benchmark do fundo
Benchmark Morningstar
MSCI India IMI NR USD
MSCI India NR USD
Target Market
Role In Portfolio
Standalone / Core
Não específico
Component
Não específico
Otro
Não específico
Primary Objective
Preservação
Não
Crescim
Sim
Renda
Não específico
Hedging
Não específico
Otro
Não específico
O que o fundo tem  GS India Equity I Inc USD
30/11/2018
Morningstar Style Box®
Estilo de obrigações
Asset Allocation
 
% Long
% Short
% Net Assets
Acções
98.04
0.00
98.04
Obrigações
0.00
0.00
0.00
Liquidez
1.96
0.00
1.96
Outro
0.00
0.00
0.00
| | |
| --- | --- |
| 5 principais regiões | % |
| Asia - Emerging | 98.79 |
| United States | 1.21 |
| Canada | 0.00 |
| Latin America | 0.00 |
| United Kingdom | 0.00 |
5 maiores sectores
%
Financial Services
24.91
Technology
18.35
Consumer Cyclical
15.73
Basic Materials
9.23
Consumer Defensive
9.02