Threadneedle UK Smaller Coms Rtl Inc
Como se comportou este fundo
30/09/2019
Evolução de €1.000 (EUR)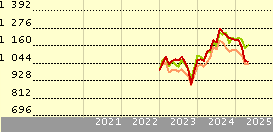 Fundo
29.9
-7.5
30.5
-22.2
17.5
+/-Cat
8.1
-0.5
9.3
-9.2
5.3
+/-Ind
10.9
-4.7
19.3
-7.4
11.1
 
Benchmark: FTSE Small Cap Ex Invest Tr...
Estatística Rápida
Valor
16/10/2019
 
GBP 3.31
Valorização do dia
 
-
Categoria Morningstar™
 
Ações RU Cap. Pequena
ISIN
 
GB0001530343
Fund Size (Mil)
30/09/2019
 
GBP 167.30
Share Class Size (Mil)
16/10/2019
 
GBP 38.96
Comissão Subscrição
 
3.75%
Ongoing Charge
02/08/2019
 
1.68%
Política de Investimento: Threadneedle UK Smaller Coms Rtl Inc
The fund seeks to achieve capital growth. The ACD's investment policy is to invest the assets of the Fund primarily in the equities of smaller companies that are domiciled in the UK or have significant UK operations. If the ACD considers it desirable it may further invest up to one third of the total assets of the Fund in other securities (including fixed interest securities, other equities and money market securities). For liquidity purposes it may invest in cash and near cash.
Returns
| | |
| --- | --- |
| Rent. Anualiz. % | 16/10/2019 |
| Ano | - |
| 3 anos anualiz. | - |
| 5 anos anualiz. | - |
| 10 anos anualiz. | - |
| | | |
| --- | --- | --- |
| Rendimento a 12 meses |   | 0.00 |
| Frequência de Pagamento de Dividendos |   | Half-yearly |
Gestão
Nome do gestor
Data de início
James Thorne
01/03/2010
Criação do fundo
28/02/1995
Benchmark
Benchmark do fundo
Benchmark Morningstar
Numis SC Ex Invt Com TR GBP
FTSE Small Cap Ex Invest Trust TR GBP
Target Market
Role In Portfolio
Standalone / Core
Não específico
Component
Não específico
Otro
Não específico
Primary Objective
Preservação
Não específico
Crescim
Sim
Renda
Não específico
Hedging
Não específico
Otro
Não específico
O que o fundo tem  Threadneedle UK Smaller Coms Rtl Inc
30/09/2019
Morningstar Style Box®
Estilo de obrigações
Asset Allocation
 
% Long
% Short
% Net Assets
Acções
98.78
0.00
98.78
Obrigações
0.00
0.00
0.00
Liquidez
1.33
0.12
1.22
Outro
0.00
0.00
0.00
| | |
| --- | --- |
| 5 principais regiões | % |
| United Kingdom | 100.00 |
| United States | 0.00 |
| Canada | 0.00 |
| Latin America | 0.00 |
| Eurozone | 0.00 |
5 maiores sectores
%
Consumer Cyclical
31.69
Technology
23.90
Industrials
15.08
Financial Services
11.20
Healthcare
7.89