Barclays GlobalBeta Port 1 B Dis USD
Como se comportou este fundo
28/02/2015
Evolução de €1.000 (EUR)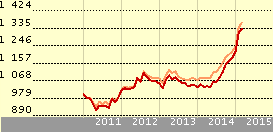 Fundo
2.1
3.1
-1.8
17.6
9.3
+/-Cat
0.2
-2.2
-0.8
1.6
-
+/-Ind
-5.8
-2.7
-1.4
-2.8
-
 
Benchmark: Cat 75%Barclays US Agg TR&2...
Estatística Rápida
Valor
02/03/2015
 
USD 11.85
Valorização do dia
 
0.25%
Categoria Morningstar™
 
Mistos Defensivos USD
ISIN
 
LU0554216258
Fund Size (Mil)
31/10/2019
 
GBP 13.55
Share Class Size (Mil)
02/03/2015
 
USD 0.90
Comissão Subscrição
 
5.25%
Ongoing Charge
31/12/2015
 
0.96%
Política de Investimento: Barclays GlobalBeta Port 1 B Dis USD
The aim is to achieve an ongoing source of income with potential to increase the value of your investment by investing in other investment funds. The Fund is actively managed and is known as a "fund of funds" which means that it invests mainly in other investment funds, as opposed to investing directly in shares or tradable debt. These underlying funds may include funds traded on major stock exchanges (known as exchange traded funds) and will normally provide exposure to different asset types across various markets in a 'passive' manner, i.e. without active stock selection. The Fund adopts a low risk investment approach. The Fund may use financial contracts (derivatives) to help achieve its aim and to manage risk, reduce costs and improve results. Income is not paid out and is rolled up (accumulated) into the value of your investment. Recommendation: this Fund may not be appropriate for investors who plan to withdraw their money within 5 years.
Returns
| | |
| --- | --- |
| Rent. Anualiz. % | 02/03/2015 |
| Ano | 9.60 |
| 3 anos anualiz. | 8.68 |
| 5 anos anualiz. | - |
| 10 anos anualiz. | - |
| | | |
| --- | --- | --- |
| Rendimento a 12 meses |   | 1.00 |
| Frequência de Pagamento de Dividendos |   | Monthly |
Gestão
Nome do gestor
Data de início
Not Disclosed
07/11/2008
Criação do fundo
10/12/2010
Benchmark
Benchmark do fundo
Benchmark Morningstar
Not Benchmarked
Cat 75%Barclays US Agg TR&25%FTSE Wld TR
Target Market
Role In Portfolio
Standalone / Core
Não específico
Component
Não específico
Otro
Não específico
Primary Objective
Preservação
Não específico
Crescim
Não específico
Renda
Não específico
Hedging
Não específico
Otro
Não específico
O que o fundo tem  Barclays GlobalBeta Port 1 B Dis USD
31/01/2020
Morningstar Style Box®
Estilo de obrigações
Morningstar Style Box®
Estilo de renta fija

Asset Allocation
 
% Long
% Short
% Net Assets
Acções
18.29
0.01
18.28
Obrigações
68.27
0.00
68.27
Liquidez
157.95
145.22
12.73
Outro
0.72
0.00
0.72
Renta Fixa
Maturidade efectiva
2.73
Duração
2.40

| | |
| --- | --- |
| 5 principais regiões | % |
| United States | 45.40 |
| Asia - Emerging | 16.25 |
| Asia - Developed | 9.08 |
| Eurozone | 8.60 |
| Japan | 5.57 |
5 maiores sectores
%
Financial Services
19.37
Technology
16.28
Consumer Cyclical
10.86
Communication Services
9.92
Healthcare
9.75