Como se comportou este fundo
31/08/2019
Evolução de €1.000 (EUR)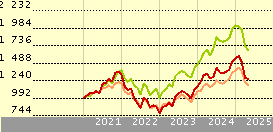 Fundo
19.5
10.4
22.9
6.1
31.4
+/-Cat
5.1
0.0
2.4
10.6
7.1
+/-Ind
2.8
-4.4
1.5
3.8
-0.8
 
Benchmark: MSCI World/Information Tech...
Estatística Rápida
Valor
20/09/2019
 
EUR 20.26
Valorização do dia
 
-0.30%
Categoria Morningstar™
 
Ações Sector Tecnologia
ISIN
 
LU0260870158
Fund Size (Mil)
31/08/2019
 
USD 3072.91
Share Class Size (Mil)
31/08/2019
 
EUR 484.99
Comissão Subscrição
 
5.75%
Ongoing Charge
25/01/2019
 
1.81%

*  This rating and report were issued for a different share class of this fund. The performance and fee structure of this class may vary from that referenced.
Analyst Report
The fund's new leadership and uncertainties around the implementation of the investment approach sees it earn a Morningstar Analyst Rating of Neutral.J.P Scandalios' appointment to the role of comanager on Franklin Small-Mid Cap Growth in 2016...
Click here to read this analyst report
Morningstar Pillars
People
Neutral
Parent
Neutral
Process
Neutral
Performance
Neutral
Price
Neutral
Política de Investimento: Franklin Technology A Acc EUR
O principal objectivo do Fundo é atingir uma valorização do capital investido. O Fundo investirá, pelo menos, dois terços do seu valor total líquido em valores de rendimento variável de empresas que se esperam ter grandes benefícios da utilização, desenvolvimento e avanço da tecnologia. Como exemplos, temos as seguintes indústrias: serviços tecnológicos, incluindo software, serviços de dados e de internet; tecnologia electrónica, incluindo computadores e seus produtos associados e componentes electrónicas; telecomunicações, incluindo redes de transmissão de dados, e equipamentos e serviços da mesma área; serviços de informação e dos media; equipamentos condutores e semicondutores; instrumentos de precisão. O Fundo investirá em valores de empresas perfeitamente estabelecidas no mercado, bem como também em pequenas/médias empresas que o Gestor considere ter boas oportunidades de crescimento.
Returns
| | |
| --- | --- |
| Rent. Anualiz. % | 20/09/2019 |
| Ano | 33.20 |
| 3 anos anualiz. | 22.28 |
| 5 anos anualiz. | 20.21 |
| 10 anos anualiz. | 18.83 |
| | | |
| --- | --- | --- |
| Rendimento a 12 meses |   | 0.00 |
Gestão
Nome do gestor
Data de início
James Cross
01/06/2016
Jonathan Curtis
01/06/2016
Click here to see others
Criação do fundo
01/09/2006
Benchmark
Benchmark do fundo
Benchmark Morningstar
MSCI World/Information Tech NR USD
MSCI World/Information Tech NR USD
Target Market
Role In Portfolio
Standalone / Core
Não específico
Component
Não específico
Otro
Não específico
Primary Objective
Preservação
Não específico
Crescim
Sim
Renda
Não específico
Hedging
Não específico
Otro
Não específico
O que o fundo tem  Franklin Technology A Acc EUR
31/08/2019
Morningstar Style Box®
Estilo de obrigações
Asset Allocation
 
% Long
% Short
% Net Assets
Acções
93.13
0.00
93.13
Obrigações
0.00
0.00
0.00
Liquidez
4.66
0.00
4.66
Outro
2.21
0.00
2.21
| | |
| --- | --- |
| 5 principais regiões | % |
| United States | 89.69 |
| Asia - Emerging | 8.36 |
| Asia - Developed | 1.30 |
| Canada | 0.65 |
| Latin America | 0.00 |
5 maiores sectores
%
Technology
73.69
Consumer Cyclical
11.50
Financial Services
9.57
Real Estate
3.44
Industrials
1.24