Como se comportou este fundo
30/04/2019
Evolução de €1.000 (EUR)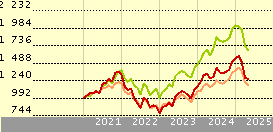 Fundo
19.5
10.4
22.9
6.1
34.3
+/-Cat
5.1
0.0
2.4
10.6
8.7
+/-Ind
2.8
-4.4
1.5
3.8
4.5
 
Benchmark: MSCI World/Information Tech...
Estatística Rápida
Valor
24/05/2019
 
EUR 18.99
Valorização do dia
 
0.00%
Categoria Morningstar™
 
Ações Sector Tecnologia
ISIN
 
LU0260870158
Fund Size (Mil)
30/04/2019
 
USD 3120.60
Share Class Size (Mil)
30/04/2019
 
EUR 480.90
Comissão Subscrição
 
5.75%
Ongoing Charge
25/01/2019
 
1.81%
Analyst Report
The fund's new leadership and uncertainties around the implementation of the investment approach sees it earn a Morningstar Analyst Rating of Neutral.J.P Scandalios' appointment to the role of comanager on Franklin Small-Mid Cap Growth in 2016...
Click here to read this analyst report
Morningstar Pillars
People
Neutral
Parent
Neutral
Process
Neutral
Performance
Neutral
Price
Neutral
Política de Investimento: Franklin Technology A Acc EUR
O principal objectivo do Fundo é atingir uma valorização do capital investido. O Fundo investirá, pelo menos, dois terços do seu valor total líquido em valores de rendimento variável de empresas que se esperam ter grandes benefícios da utilização, desenvolvimento e avanço da tecnologia. Como exemplos, temos as seguintes indústrias: serviços tecnológicos, incluindo software, serviços de dados e de internet; tecnologia electrónica, incluindo computadores e seus produtos associados e componentes electrónicas; telecomunicações, incluindo redes de transmissão de dados, e equipamentos e serviços da mesma área; serviços de informação e dos media; equipamentos condutores e semicondutores; instrumentos de precisão. O Fundo investirá em valores de empresas perfeitamente estabelecidas no mercado, bem como também em pequenas/médias empresas que o Gestor considere ter boas oportunidades de crescimento.
Returns
| | |
| --- | --- |
| Rent. Anualiz. % | 24/05/2019 |
| Ano | 24.85 |
| 3 anos anualiz. | 23.18 |
| 5 anos anualiz. | 22.09 |
| 10 anos anualiz. | 20.31 |
| | | |
| --- | --- | --- |
| Rendimento a 12 meses |   | 0.00 |
Gestão
Nome do gestor
Data de início
James Cross
01/06/2016
Jonathan Curtis
01/06/2016
Click here to see others
Criação do fundo
01/09/2006
Benchmark
Benchmark do fundo
Benchmark Morningstar
MSCI World/Information Tech NR USD
MSCI World/Information Tech NR USD
Target Market
Role In Portfolio
Standalone / Core
Não específico
Component
Não específico
Otro
Não específico
Primary Objective
Preservação
Não específico
Crescim
Sim
Renda
Não específico
Hedging
Não específico
Otro
Não específico
O que o fundo tem  Franklin Technology A Acc EUR
30/04/2019
Morningstar Style Box®
Estilo de obrigações
Asset Allocation
 
% Long
% Short
% Net Assets
Acções
95.38
0.00
95.38
Obrigações
0.00
0.00
0.00
Liquidez
2.85
0.00
2.84
Outro
1.78
0.00
1.78
| | |
| --- | --- |
| 5 principais regiões | % |
| United States | 89.91 |
| Asia - Emerging | 6.86 |
| Asia - Developed | 1.26 |
| Eurozone | 1.04 |
| Canada | 0.93 |
5 maiores sectores
%
Technology
77.96
Consumer Cyclical
9.53
Financial Services
8.11
Real Estate
2.16
Industrials
0.88