Como se comportou este fundo
31/03/2019
Evolução de €1.000 (EUR)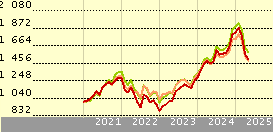 Fundo
23.5
5.5
19.3
8.8
16.3
+/-Cat
9.0
0.0
7.9
7.6
-1.2
+/-Ind
5.8
-4.7
5.0
5.4
-1.9
 
Benchmark: Russell 1000 Growth TR USD
Estatística Rápida
Valor
18/04/2019
 
USD 52.01
Valorização do dia
 
-0.15%
Categoria Morningstar™
 
Ações EUA Cap. Grande Crescimento
ISIN
 
LU0174119775
Fund Size (Mil)
18/04/2019
 
USD 2140.47
Share Class Size (Mil)
18/04/2019
 
USD 872.65
Comissão Subscrição
 
-
Ongoing Charge
15/02/2019
 
0.69%

*  This rating and report were issued for a different share class of this fund. The performance and fee structure of this class may vary from that referenced.
Analyst Report
T. Rowe Price US Large Cap Growth Equity is set up for success under its relatively new manager, earning an upgrade in its Morningstar Analyst Rating to Silver from Bronze.The tenure of manager Taymour Tamaddon only dates to January 2017, but he...
Click here to read this analyst report
Morningstar Pillars
People
Positive
Parent
Positive
Process
Positive
Performance
Neutral
Price
Positive
Política de Investimento: T. Rowe Price US Large Cap Gr Eq I USD
The Fund's objective is to provide long term capital appreciation by investing primarily in a diversified portfolio of the transferable equity and equity-related securities of large US companies. The Fund will emphasise investment in companies that have the potential for above average and sustainable rates of earnings growth.
Returns
| | |
| --- | --- |
| Rent. Anualiz. % | 18/04/2019 |
| Ano | 17.35 |
| 3 anos anualiz. | 20.85 |
| 5 anos anualiz. | 20.28 |
| 10 anos anualiz. | 19.90 |
| | | |
| --- | --- | --- |
| Rendimento a 12 meses |   | 0.00 |
Gestão
Nome do gestor
Data de início
Taymour Tamaddon
01/01/2017
Criação do fundo
31/07/2003
Benchmark
Benchmark do fundo
Benchmark Morningstar
Russell 1000 Growth TR USD
Russell 1000 Growth TR USD
Target Market
Role In Portfolio
Standalone / Core
Não específico
Component
Não específico
Otro
Não específico
Primary Objective
Preservação
Não específico
Crescim
Sim
Renda
Não específico
Hedging
Não específico
Otro
Não específico
O que o fundo tem  T. Rowe Price US Large Cap Gr Eq I USD
31/03/2019
Morningstar Style Box®
Estilo de obrigações
Asset Allocation
 
% Long
% Short
% Net Assets
Acções
97.14
0.00
97.14
Obrigações
0.00
0.00
0.00
Liquidez
2.86
0.00
2.86
Outro
0.00
0.00
0.00
| | |
| --- | --- |
| 5 principais regiões | % |
| United States | 93.42 |
| Asia - Emerging | 4.35 |
| Canada | 1.54 |
| Eurozone | 0.69 |
| Latin America | 0.00 |
5 maiores sectores
%
Technology
36.17
Healthcare
19.97
Consumer Cyclical
19.30
Industrials
11.02
Financial Services
10.15