Como se comportou este fundo
30/04/2019
Evolução de €1.000 (EUR)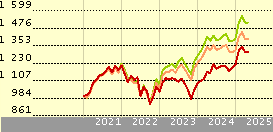 Fundo
13.7
1.5
15.3
-17.6
13.9
+/-Cat
2.9
-1.5
3.9
-3.5
-2.6
+/-Ind
3.9
-2.9
2.8
-4.9
-3.8
 
Benchmark: MSCI EMU NR EUR
Estatística Rápida
Valor
20/05/2019
 
EUR 34.19
Valorização do dia
 
-1.14%
Categoria Morningstar™
 
Ações Euro Cap. Grande
ISIN
 
LU0106235293
Fund Size (Mil)
20/05/2019
 
EUR 3711.80
Share Class Size (Mil)
20/05/2019
 
EUR 938.70
Comissão Subscrição
 
5.00%
Ongoing Charge
17/05/2019
 
1.84%
Analyst Report
We like Martin Skanberg's measured approach to investing. We believe that under his management, investors seeking core eurozone equity exposure are in safe hands with this fund. Skanberg took over the fund in May 2010, using the same investment...
Click here to read this analyst report
Morningstar Pillars
People
Positive
Parent
Positive
Process
Positive
Performance
Positive
Price
Negative
Política de Investimento: Schroder ISF EURO Equity A Acc EUR
Proporcionar crescimento de capital principalmente atrav's do investimento em acçäes de empresas dos pa¡ses que participam na UEM.
Returns
| | |
| --- | --- |
| Rent. Anualiz. % | 20/05/2019 |
| Ano | 8.13 |
| 3 anos anualiz. | 3.28 |
| 5 anos anualiz. | 4.17 |
| 10 anos anualiz. | 7.53 |
| | | |
| --- | --- | --- |
| Rendimento a 12 meses |   | 0.00 |
Gestão
Nome do gestor
Data de início
Martin Skanberg
13/05/2010
Criação do fundo
17/01/2000
Benchmark
Benchmark do fundo
Benchmark Morningstar
MSCI EMU NR EUR
MSCI EMU NR EUR
Target Market
Role In Portfolio
Standalone / Core
Não específico
Component
Não específico
Otro
Não específico
Primary Objective
Preservação
Não específico
Crescim
Sim
Renda
Não específico
Hedging
Não específico
Otro
Não específico
O que o fundo tem  Schroder ISF EURO Equity A Acc EUR
30/04/2019
Morningstar Style Box®
Estilo de obrigações
Asset Allocation
 
% Long
% Short
% Net Assets
Acções
99.36
0.00
99.36
Obrigações
0.00
0.00
0.00
Liquidez
20.06
19.43
0.64
Outro
0.00
0.00
0.00
| | |
| --- | --- |
| 5 principais regiões | % |
| Eurozone | 82.44 |
| Europe - ex Euro | 7.54 |
| United States | 2.89 |
| United Kingdom | 2.68 |
| Europe - Emerging | 2.61 |
5 maiores sectores
%
Technology
16.53
Consumer Cyclical
16.01
Industrials
13.24
Financial Services
12.84
Basic Materials
12.42