Como se comportou este fundo
30/09/2018
Evolução de €1.000 (EUR)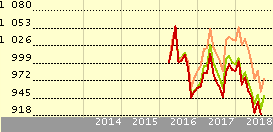 Fundo
-
-
-
2.7
13.0
+/-Cat
-
-
-
-
-
+/-Ind
-
-
-
-
-
 
Benchmark: -
Estatística Rápida
Valor
17/09/2018
 
GBP 255.62
Valorização do dia
 
20.98%
Categoria Morningstar™
 
Obrigações Outros
ISIN
 
LU1374907498
Fund Size (Mil)
19/09/2019
 
USD 3667.03
Share Class Size (Mil)
17/09/2018
 
GBP 0.00
Comissão Subscrição
 
5.00%
Ongoing Charge
29/11/2018
 
0.84%

*  This rating and report were issued for a different share class of this fund. The performance and fee structure of this class may vary from that referenced.
Analyst Report
After the departure of Simon Lue-Fong, Mary-Therese Barton took the helm in March 2018, leading the 23 investment professionals of Pictet's Global Emerging Debt team. A further restructuring of the team means it still needs to prove its worth...
Click here to read this analyst report
Morningstar Pillars
People
Neutral
Parent
Neutral
Process
Neutral
Performance
Neutral
Price
Neutral
Política de Investimento: Pictet-Global Emerging Debt HJ dy GBP
O objetivo do compartimento é de buscar receitas e crescimento de capital através do investimento em sua carteira de títulos e instrumentos do mercado monetário nos países emergentes, dentro dos limites permitidos pelas restrições ao investimento. Pelo menos dois terços do total dos activos ou da riqueza do compartimento será investido em títulos e outros instrumentos de dívida emitidos ou garantidos por governos locais ou nacionais de países emergentes e / ou outros emissores domiciliados em países emergentes.
Returns
| | |
| --- | --- |
| Rent. Anualiz. % | 17/09/2018 |
| Ano | 13.25 |
| 3 anos anualiz. | - |
| 5 anos anualiz. | - |
| 10 anos anualiz. | - |
| | | |
| --- | --- | --- |
| Rendimento a 12 meses |   | 4.91 |
| Frequência de Pagamento de Dividendos |   | Annually |
Gestão
Nome do gestor
Data de início
Mary-Therese Barton
01/05/2018
Philippe Petit
01/05/2018
Click here to see others
Criação do fundo
07/03/2016
Benchmark
Benchmark do fundo
Benchmark Morningstar
JPM EMBI Global Diversified TR USD
-
Target Market
Role In Portfolio
Standalone / Core
Não específico
Component
Não específico
Otro
Não específico
Primary Objective
Preservação
Não específico
Crescim
Sim
Renda
Sim
Hedging
Não específico
Otro
Não específico
O que o fundo tem  Pictet-Global Emerging Debt HJ dy GBP
31/08/2019
Renta Fixa
Maturidade efectiva
14.58
Duração
-
Morningstar Style Box®
Estilo de renta fija
Asset Allocation
 
% Long
% Short
% Net Assets
Acções
0.00
0.00
0.00
Obrigações
176.26
72.59
103.67
Liquidez
185.22
187.46
-2.24
Outro
0.00
1.42
-1.42