Como se comportou este fundo
31/03/2019
Evolução de €1.000 (EUR)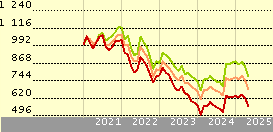 Fundo
-
-16.6
30.6
-24.2
36.4
+/-Cat
-
-7.1
11.4
-0.4
4.7
+/-Ind
-
0.1
25.0
5.4
0.9
 
Benchmark: MSCI China A Onshore NR CNY
Estatística Rápida
Valor
19/04/2019
 
EUR 19.88
Valorização do dia
 
1.22%
Categoria Morningstar™
 
Ações China - A Shares
ISIN
 
LU1255011097
Fund Size (Mil)
19/04/2019
 
CNH 1488.80
Share Class Size (Mil)
19/04/2019
 
EUR 8.53
Comissão Subscrição
 
5.00%
Ongoing Charge
01/01/2019
 
1.80%
Analyst Report
JPMorgan Funds China A-Share Opportunities sports a number of positive attributes, but it is still early days. Howard Wang took over the fund on 10 Feb 2017. He has 23 years of investment experience and has showcased his investment savvy with a...
Click here to read this analyst report
Morningstar Pillars
People
Neutral
Parent
Positive
Process
Neutral
Performance
Neutral
Price
Positive
Política de Investimento: JPM China A-Share Opps A (acc) EUR
To provide long-term capital growth by investing primarily in China A-Shares from companies in the PRC.
Returns
| | |
| --- | --- |
| Rent. Anualiz. % | 19/04/2019 |
| Ano | 42.30 |
| 3 anos anualiz. | 11.37 |
| 5 anos anualiz. | - |
| 10 anos anualiz. | - |
| | | |
| --- | --- | --- |
| Rendimento a 12 meses |   | 0.00 |
Gestão
Nome do gestor
Data de início
Howard Wang
10/02/2017
Rebecca Jiang
29/09/2017
Criação do fundo
11/09/2015
Benchmark
Benchmark do fundo
Benchmark Morningstar
CSI 300 NR USD
MSCI China A Onshore NR CNY
Target Market
Role In Portfolio
Standalone / Core
Não específico
Component
Não específico
Otro
Não específico
Primary Objective
Preservação
Não
Crescim
Sim
Renda
Não específico
Hedging
Não específico
Otro
Não específico
O que o fundo tem  JPM China A-Share Opps A (acc) EUR
28/02/2019
Morningstar Style Box®
Estilo de obrigações
Asset Allocation
 
% Long
% Short
% Net Assets
Acções
99.80
0.00
99.80
Obrigações
0.00
0.00
0.00
Liquidez
62.14
61.94
0.20
Outro
0.00
0.00
0.00
| | |
| --- | --- |
| 5 principais regiões | % |
| Asia - Emerging | 100.00 |
| United States | 0.00 |
| Canada | 0.00 |
| Latin America | 0.00 |
| United Kingdom | 0.00 |
5 maiores sectores
%
Financial Services
26.08
Consumer Defensive
16.35
Technology
14.25
Consumer Cyclical
12.73
Industrials
11.81