Como se comportou este fundo
31/03/2015
Evolução de €1.000 (EUR)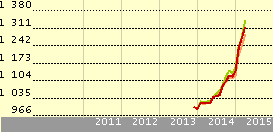 Fundo
-
-
-
15.1
15.1
+/-Cat
-
-
-
1.3
-
+/-Ind
-
-
-
-1.6
-
 
Benchmark: BBgBarc US Corporate High Y...
Estatística Rápida
Valor
02/04/2015
 
GBP 11.36
Valorização do dia
 
-1.14%
Categoria Morningstar™
 
Obrigações Alto Rend. USD
ISIN
 
IE00B84GHV97
Fund Size (Mil)
14/02/2019
 
USD 4045.02
Share Class Size (Mil)
02/04/2015
 
GBP 0.08
Comissão Subscrição
 
-
Ongoing Charge
17/02/2015
 
0.73%

*  This rating and report were issued for a different share class of this fund. The performance and fee structure of this class may vary from that referenced.
Analyst Report
Neuberger Berman High Yield Bond's cautious approach, experienced team, and deep resources are definite positives, though its returns have been lacklustre of late. We still come down on the side of maintaining the fund's Morningstar Analyst...
Click here to read this analyst report
Morningstar Pillars
People
Positive
Parent
Positive
Process
Positive
Performance
Positive
Price
Neutral
Política de Investimento: Neuberger Berman HY Bd GBP I2 Acc UnH
Achieve an attractive level of total return (income plus capital appreciation) from the high yield fixed income market.
Returns
| | |
| --- | --- |
| Rent. Anualiz. % | 02/04/2015 |
| Ano | 13.87 |
| 3 anos anualiz. | - |
| 5 anos anualiz. | - |
| 10 anos anualiz. | - |
| | | |
| --- | --- | --- |
| Rendimento a 12 meses |   | 0.00 |
Gestão
Nome do gestor
Data de início
Thomas O'Reilly
03/05/2006
William (Russ) Covode
28/02/2011
Click here to see others
Criação do fundo
21/11/2013
Benchmark
Benchmark do fundo
Benchmark Morningstar
ICE BofAML US HY Constnd TR USD
BBgBarc US Corporate High Yield TR USD
Target Market
Role In Portfolio
Standalone / Core
Não específico
Component
Não específico
Otro
Não específico
Primary Objective
Preservação
Não específico
Crescim
Não específico
Renda
Não específico
Hedging
Não específico
Otro
Não específico
O que o fundo tem  Neuberger Berman HY Bd GBP I2 Acc UnH
31/01/2019
Renta Fixa
Maturidade efectiva
5.39
Duração
3.60
Morningstar Style Box®
Estilo de renta fija
Asset Allocation
 
% Long
% Short
% Net Assets
Acções
0.00
0.00
0.00
Obrigações
94.31
0.00
94.31
Liquidez
5.44
2.10
3.34
Outro
2.35
0.00
2.35