Como se comportou este fundo
31/03/2015
Evolução de €1.000 (EUR)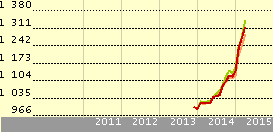 Fundo
-
-
-
15.1
15.1
+/-Cat
-
-
-
1.3
-
+/-Ind
-
-
-
-1.6
-
 
Benchmark: BBgBarc US Corporate High Y...
Estatística Rápida
Valor
02/04/2015
 
GBP 11.36
Valorização do dia
 
-1.14%
Categoria Morningstar™
 
Obrigações Alto Rend. USD
ISIN
 
IE00B84GHV97
Fund Size (Mil)
21/06/2019
 
USD 3684.23
Share Class Size (Mil)
02/04/2015
 
GBP 0.08
Comissão Subscrição
 
-
Ongoing Charge
17/02/2015
 
0.73%
Analyst Report
Neuberger Berman High Yield Bond's attractions include a cautious approach, an experienced team, and deep resources. Its performance has been average, though, and its leadership is changing a bit. We are thus lowering its Morningstar Analyst...
Click here to read this analyst report
Morningstar Pillars
People
Positive
Parent
Positive
Process
Positive
Performance
Neutral
Price
Neutral
Política de Investimento: Neuberger Berman HY Bd GBP I2 Acc UnH
Achieve an attractive level of total return (income plus capital appreciation) from the high yield fixed income market.
Returns
| | |
| --- | --- |
| Rent. Anualiz. % | 02/04/2015 |
| Ano | 13.87 |
| 3 anos anualiz. | - |
| 5 anos anualiz. | - |
| 10 anos anualiz. | - |
| | | |
| --- | --- | --- |
| Rendimento a 12 meses |   | 0.00 |
Gestão
Nome do gestor
Data de início
Thomas O'Reilly
03/05/2006
William (Russ) Covode
28/02/2011
Click here to see others
Criação do fundo
21/11/2013
Benchmark
Benchmark do fundo
Benchmark Morningstar
ICE BofAML US HY Constnd TR USD
BBgBarc US Corporate High Yield TR USD
Target Market
Role In Portfolio
Standalone / Core
Não específico
Component
Não específico
Otro
Não específico
Primary Objective
Preservação
Não específico
Crescim
Não específico
Renda
Não específico
Hedging
Não específico
Otro
Não específico
O que o fundo tem  Neuberger Berman HY Bd GBP I2 Acc UnH
31/05/2019
Renta Fixa
Maturidade efectiva
5.99
Duração
3.42
Morningstar Style Box®
Estilo de renta fija
Asset Allocation
 
% Long
% Short
% Net Assets
Acções
0.00
0.00
0.00
Obrigações
95.45
0.00
95.45
Liquidez
4.89
2.34
2.55
Outro
2.00
0.00
2.00