Como se comportou este fundo
31/08/2019
Evolução de €1.000 (EUR)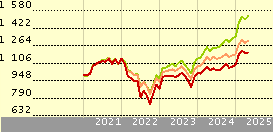 Fundo
14.4
6.3
16.7
-24.9
11.7
+/-Cat
1.5
3.6
1.9
-4.9
-0.1
+/-Ind
4.9
-0.6
4.2
-6.6
-1.4
 
Benchmark: FSE DAX TR EUR
Estatística Rápida
Valor
20/09/2019
 
EUR 176.02
Valorização do dia
 
-0.18%
Categoria Morningstar™
 
Ações Alemanha Cap. Grande
ISIN
 
LU0740823439
Fund Size (Mil)
20/09/2019
 
EUR 439.40
Share Class Size (Mil)
20/09/2019
 
EUR 21.19
Comissão Subscrição
 
3.00%
Ongoing Charge
19/02/2019
 
2.30%

*  This rating and report were issued for a different share class of this fund. The performance and fee structure of this class may vary from that referenced.
Analyst Report
Since August 2012, DWS Invest German Equities has been a Luxembourg-domiciled sibling of DWS Deutschland.Following Tim Albrecht's decision in September 2018 to leave DWS, we decided to downgrade the fund's Morningstar Analyst Rating to Bronze...
Click here to read this analyst report
Morningstar Pillars
People
Positive
Parent
Neutral
Process
Positive
Performance
Positive
Price
Negative
Política de Investimento: DWS Invest German Equities NC
O objectivo da política de investimento do fundo consiste na obtenção de uma valorização elevada em euros. Pelo menos 75% do capital do fundo parcial será investido em acções, certificados de investimento, warrants sobre títulos, títulos de empréstimo (opções) e direitos de subscrição de emitentes alemães. São considerados emitentes alemães todas as empresas que têm a sua sede na Alemanha.
Returns
| | |
| --- | --- |
| Rent. Anualiz. % | 20/09/2019 |
| Ano | 16.03 |
| 3 anos anualiz. | 3.48 |
| 5 anos anualiz. | 4.65 |
| 10 anos anualiz.* | 8.82 |
| | | |
| --- | --- | --- |
| Rendimento a 12 meses |   | 0.00 |
Gestão
Nome do gestor
Data de início
Christoph Ohme
20/08/2012
Hansjörg Pack
30/09/2018
Criação do fundo
20/08/2012
Benchmark
Benchmark do fundo
Benchmark Morningstar
FSE CDAX TR EUR
FSE DAX TR EUR
Target Market
Role In Portfolio
Standalone / Core
Não específico
Component
Não específico
Otro
Não específico
Primary Objective
Preservação
Não específico
Crescim
Sim
Renda
Não específico
Hedging
Não específico
Otro
Não específico
O que o fundo tem  DWS Invest German Equities NC
31/07/2019
Morningstar Style Box®
Estilo de obrigações
Asset Allocation
 
% Long
% Short
% Net Assets
Acções
98.30
0.08
98.22
Obrigações
0.00
0.00
0.00
Liquidez
1.89
0.16
1.73
Outro
0.05
0.00
0.05
| | |
| --- | --- |
| 5 principais regiões | % |
| Eurozone | 93.57 |
| United Kingdom | 4.40 |
| United States | 2.03 |
| Canada | 0.00 |
| Latin America | 0.00 |
5 maiores sectores
%
Industrials
18.65
Financial Services
17.83
Technology
16.72
Basic Materials
15.83
Healthcare
11.72
5 maiores posições
Sector
%
SAP SE
Technology
9.58
Allianz SE
Financial Services
9.56
Siemens AG
Industrials
6.99
adidas AG
Consumer Cyclical
5.17
Bayer AG
Healthcare
4.96
Incremento Reducción Nuevo desde la anterior cartera
DWS Invest German Equities NC