Como se comportou este fundo
31/08/2019
Evolução de €1.000 (EUR)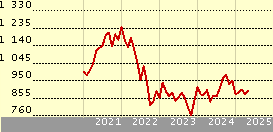 Fundo
-1.0
-3.0
5.7
-10.7
13.2
+/-Cat
-
-
-
-
-
+/-Ind
-
-
-
-
-
 
Benchmark: -
Estatística Rápida
Valor
20/09/2019
 
EUR 15.23
Valorização do dia
 
0.07%
Categoria Morningstar™
 
Imobiliário Indirecto Outros
ISIN
 
LU0523922846
Fund Size (Mil)
31/08/2019
 
USD 174.83
Share Class Size (Mil)
31/08/2019
 
EUR 3.52
Comissão Subscrição
 
3.00%
Ongoing Charge
29/07/2019
 
2.61%

*  This rating and report were issued for a different share class of this fund. The performance and fee structure of this class may vary from that referenced.
Analyst Report
We initiate coverage on Franklin Global Real Estate with a Morningstar Analyst Rating of Negative as we think the low level of active management and above-average fees make it hard for the managers to outperform or match the performance of either...
Click here to read this analyst report
Morningstar Pillars
People
Neutral
Parent
Neutral
Process
Negative
Performance
Negative
Price
Negative
Política de Investimento: Franklin Global Real Estate N(acc)EUR-H1
Maximize o retorno total sobre o investimento, formado por renda e apreciação de capital, ao investir em fundos de investimento imobiliários (REITS) e noutras companhias cujo negócio principal é orientado para o sector imobiliário. Ditos investimentos serão considerados valores transferíveis. O Fundo terá o objectivo de investir em empresas de uma ampla gama de sectores imobiliários e países.
Returns
| | |
| --- | --- |
| Rent. Anualiz. % | 20/09/2019 |
| Ano | 14.34 |
| 3 anos anualiz. | 0.46 |
| 5 anos anualiz. | 1.80 |
| 10 anos anualiz. | - |
| | | |
| --- | --- | --- |
| Rendimento a 12 meses |   | 0.00 |
Gestão
Nome do gestor
Data de início
Wilson Magee
01/09/2010
Donna Lee
31/03/2015
Click here to see others
Criação do fundo
20/08/2010
Benchmark
Benchmark do fundo
Benchmark Morningstar
FTSE EPRA Nareit Developed TR USD
-
Target Market
Role In Portfolio
Standalone / Core
Não específico
Component
Não específico
Otro
Não específico
Primary Objective
Preservação
Não específico
Crescim
Sim
Renda
Sim
Hedging
Não específico
Otro
Não específico
O que o fundo tem  Franklin Global Real Estate N(acc)EUR-H1
31/08/2019
Morningstar Style Box®
Estilo de obrigações
Asset Allocation
 
% Long
% Short
% Net Assets
Acções
98.98
0.00
98.98
Obrigações
0.00
0.00
0.00
Liquidez
1.02
0.00
1.02
Outro
0.00
0.00
0.00
| | |
| --- | --- |
| 5 principais regiões | % |
| United States | 55.81 |
| Japan | 11.13 |
| Asia - Developed | 9.76 |
| Eurozone | 7.23 |
| Australasia | 5.57 |
5 maiores sectores
%
Real Estate
98.35
Communication Services
1.10
Consumer Cyclical
0.55