Como se comportou este fundo
31/07/2019
Evolução de €1.000 (EUR)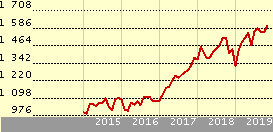 Fundo
8.8
-0.5
26.3
-3.4
20.0
+/-Cat
-
-
-
-
-
+/-Ind
-
-
-
-
-
 
Benchmark: -
Estatística Rápida
Valor
22/08/2019
 
EUR 47.13
Valorização do dia
 
-0.49%
Categoria Morningstar™
 
Ações Outros
ISIN
 
LU0511403460
Fund Size (Mil)
22/08/2019
 
USD 3264.32
Share Class Size (Mil)
22/08/2019
 
EUR 0.01
Comissão Subscrição
 
-
Ongoing Charge
13/02/2019
 
2.74%
Analyst Report
Changes with AB American Growth Portfolio's supporting cast and the management team's mixed record keep its Morningstar Analyst Rating at Neutral, just like its US-based sibling, AB Large Cap Growth. Lead manager Frank Caruso is long-tenured, but...
Click here to read this analyst report
Morningstar Pillars
People
Neutral
Parent
Neutral
Process
Neutral
Performance
Positive
Price
Negative
Política de Investimento: AB American Gr Ptf B EUR H Acc
O Portfolio é uma carteira de títulos de grande capitalização norte-americana que procura valorização de capital de longo prazo através de investimentos em títulos patrimoniais de emissores dos Estados Unidos. O Portfolio investe principalmente em um número limitado de empresas de alta qualidade e bem estabelecidas, com sede nos Estados Unidos. Essas empresas, em geral, são a meta da Equipe de Administração do Portfolio por suas posições superiores no setor, fortes habilidades de administração e taxas de crescimento atrativas.
Returns
| | |
| --- | --- |
| Rent. Anualiz. % | 22/08/2019 |
| Ano | 18.12 |
| 3 anos anualiz. | 11.59 |
| 5 anos anualiz. | 10.34 |
| 10 anos anualiz. | - |
| | | |
| --- | --- | --- |
| Rendimento a 12 meses |   | 0.00 |
Gestão
Nome do gestor
Data de início
Vinay Thapar
11/04/2018
Frank Caruso
31/03/2012
Click here to see others
Criação do fundo
30/06/2010
Benchmark
Benchmark do fundo
Benchmark Morningstar
Russell 1000 Growth TR USD
-
Target Market
Role In Portfolio
Standalone / Core
Não específico
Component
Não específico
Otro
Não específico
Primary Objective
Preservação
Não específico
Crescim
Sim
Renda
Não específico
Hedging
Não específico
Otro
Não específico
O que o fundo tem  AB American Gr Ptf B EUR H Acc
31/07/2019
Morningstar Style Box®
Estilo de obrigações
Asset Allocation
 
% Long
% Short
% Net Assets
Acções
100.00
0.00
100.00
Obrigações
0.00
0.00
0.00
Liquidez
0.00
0.00
0.00
Outro
0.00
0.00
0.00
| | |
| --- | --- |
| 5 principais regiões | % |
| United States | 99.54 |
| Eurozone | 0.46 |
| Canada | 0.00 |
| Latin America | 0.00 |
| United Kingdom | 0.00 |
5 maiores sectores
%
Technology
32.46
Healthcare
25.39
Consumer Cyclical
15.87
Consumer Defensive
9.27
Financial Services
8.92