AB American Gr Ptf B EUR H Acc
Como se comportou este fundo
31/03/2019
Evolução de €1.000 (EUR)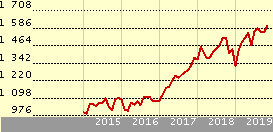 Fundo
8.8
-0.5
26.3
-3.4
14.9
+/-Cat
-
-
-
-
-
+/-Ind
-
-
-
-
-
 
Benchmark: -
Estatística Rápida
Valor
18/04/2019
 
EUR 46.44
Valorização do dia
 
0.26%
Categoria Morningstar™
 
Ações Outros
ISIN
 
LU0511403460
Fund Size (Mil)
18/04/2019
 
USD 3191.10
Share Class Size (Mil)
18/04/2019
 
EUR 0.01
Comissão Subscrição
 
-
Ongoing Charge
13/02/2019
 
2.74%
Analyst Report
Despite strong recent results, AB American Growth Portfolio receives a Morningstar Analyst Rating of Neutral just like its US-based sibling, AB Large Cap Growth, due to recent manager changes and an untested process.The team's reshuffling could...
Click here to read this analyst report
Morningstar Pillars
People
Neutral
Parent
Neutral
Process
Neutral
Performance
Positive
Price
Negative
Política de Investimento: AB American Gr Ptf B EUR H Acc
O Portfolio é uma carteira de títulos de grande capitalização norte-americana que procura valorização de capital de longo prazo através de investimentos em títulos patrimoniais de emissores dos Estados Unidos. O Portfolio investe principalmente em um número limitado de empresas de alta qualidade e bem estabelecidas, com sede nos Estados Unidos. Essas empresas, em geral, são a meta da Equipe de Administração do Portfolio por suas posições superiores no setor, fortes habilidades de administração e taxas de crescimento atrativas.
Returns
| | |
| --- | --- |
| Rent. Anualiz. % | 18/04/2019 |
| Ano | 16.39 |
| 3 anos anualiz. | 12.29 |
| 5 anos anualiz. | 12.01 |
| 10 anos anualiz. | - |
| | | |
| --- | --- | --- |
| Rendimento a 12 meses |   | 0.00 |
Gestão
Nome do gestor
Data de início
Vinay Thapar
11/04/2018
Frank Caruso
31/03/2012
Click here to see others
Criação do fundo
30/06/2010
Benchmark
Benchmark do fundo
Benchmark Morningstar
Russell 1000 Growth TR USD
-
Target Market
Role In Portfolio
Standalone / Core
Não específico
Component
Não específico
Otro
Não específico
Primary Objective
Preservação
Não específico
Crescim
Sim
Renda
Não específico
Hedging
Não específico
Otro
Não específico
O que o fundo tem  AB American Gr Ptf B EUR H Acc
31/03/2019
Morningstar Style Box®
Estilo de obrigações
Asset Allocation
 
% Long
% Short
% Net Assets
Acções
100.00
0.00
100.00
Obrigações
0.00
0.00
0.00
Liquidez
0.00
0.00
0.00
Outro
0.00
0.00
0.00
| | |
| --- | --- |
| 5 principais regiões | % |
| United States | 99.47 |
| Eurozone | 0.53 |
| Canada | 0.00 |
| Latin America | 0.00 |
| United Kingdom | 0.00 |
5 maiores sectores
%
Technology
32.07
Healthcare
23.11
Consumer Cyclical
16.72
Financial Services
9.69
Consumer Defensive
9.48