Como se comportou este fundo
31/07/2019
Evolução de €1.000 (EUR)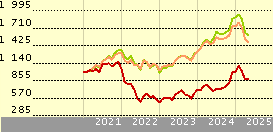 Fundo
24.3
5.4
16.1
6.9
33.1
+/-Cat
9.8
-0.2
4.6
5.7
6.1
+/-Ind
6.6
-4.9
1.7
3.4
5.5
 
Benchmark: Russell 1000 Growth TR USD
Estatística Rápida
Valor
22/08/2019
 
USD 105.71
Valorização do dia
 
0.00%
Categoria Morningstar™
 
Ações EUA Cap. Grande Crescimento
ISIN
 
LU0360484686
Fund Size (Mil)
22/08/2019
 
USD 8681.02
Share Class Size (Mil)
22/08/2019
 
USD 2369.58
Comissão Subscrição
 
1.00%
Ongoing Charge
17/07/2019
 
0.85%
Analyst Report
MS INVF US Advantage has used its tool kit well, resulting in a Morningstar Analyst Rating of Silver.Dennis Lynch has built a long-tenured team that's thoughtfully planning for the future. While no immediate departures are anticipated, the team...
Click here to read this analyst report
Morningstar Pillars
People
Positive
Parent
Neutral
Process
Positive
Performance
Positive
Price
Neutral
Política de Investimento: MS INVF US Advantage Z
Uma disciplinada, orientada para o valor e ascendente estratégia de selecção de acções com foco nos processos de rentabilidades absolutas produz uma carteira altamente concentrada de grandes negócios de concessão localizados nos EUA. A análise aprofundada sobre as variáveis fundamentais procura identificar empresas com imobilizado incorpóreo difícil de copiar, com um elevado fluxo livre de tesouraria, negócios repetidos, forte rentabilidade sustentada do capital utilizado e uma gestão sólida. A gestão de risco ajuda a reduzir o risco absoluto, concentrando-se nos riscos de valorização e do negócio.
Returns
| | |
| --- | --- |
| Rent. Anualiz. % | 22/08/2019 |
| Ano | 31.36 |
| 3 anos anualiz. | 19.69 |
| 5 anos anualiz. | 19.66 |
| 10 anos anualiz. | 19.65 |
| | | |
| --- | --- | --- |
| Rendimento a 12 meses |   | 0.00 |
Gestão
Nome do gestor
Data de início
Dennis Lynch
22/06/2009
Alexander Norton
22/06/2009
Click here to see others
Criação do fundo
05/09/2008
Benchmark
Benchmark do fundo
Benchmark Morningstar
S&P 500 TR USD
Russell 1000 Growth TR USD
Target Market
Role In Portfolio
Standalone / Core
Não específico
Component
Não específico
Otro
Não específico
Primary Objective
Preservação
Não específico
Crescim
Sim
Renda
Sim
Hedging
Não específico
Otro
Não específico
O que o fundo tem  MS INVF US Advantage Z
31/07/2019
Morningstar Style Box®
Estilo de obrigações
Asset Allocation
 
% Long
% Short
% Net Assets
Acções
94.71
0.00
94.71
Obrigações
0.00
0.00
0.00
Liquidez
5.29
0.00
5.29
Outro
0.00
0.00
0.00
| | |
| --- | --- |
| 5 principais regiões | % |
| United States | 88.72 |
| Canada | 5.27 |
| Eurozone | 3.45 |
| Latin America | 2.56 |
| United Kingdom | 0.00 |
5 maiores sectores
%
Technology
37.53
Consumer Cyclical
24.50
Industrials
16.20
Healthcare
12.06
Basic Materials
5.42