Como se comportou este fundo
31/03/2019
Evolução de €1.000 (EUR)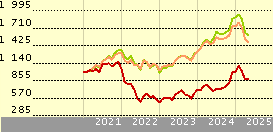 Fundo
24.3
5.4
16.1
6.9
20.0
+/-Cat
9.8
-0.2
4.6
5.7
2.5
+/-Ind
6.6
-4.9
1.7
3.4
1.8
 
Benchmark: Russell 1000 Growth TR USD
Estatística Rápida
Valor
18/04/2019
 
USD 99.60
Valorização do dia
 
-0.04%
Categoria Morningstar™
 
Ações EUA Cap. Grande Crescimento
ISIN
 
LU0360484686
Fund Size (Mil)
18/04/2019
 
USD 7952.11
Share Class Size (Mil)
18/04/2019
 
USD 2317.63
Comissão Subscrição
 
1.00%
Ongoing Charge
19/02/2019
 
0.85%
Analyst Report
Morgan Stanley US Advantage is led by an established team that has kept volatility in check, resulting in a Morningstar Analyst Rating of Silver. Dennis Lynch and team have long used an appealing high-conviction approach. They foster idea...
Click here to read this analyst report
Morningstar Pillars
People
Positive
Parent
Neutral
Process
Positive
Performance
Positive
Price
Neutral
Política de Investimento: MS INVF US Advantage Z
Uma disciplinada, orientada para o valor e ascendente estratégia de selecção de acções com foco nos processos de rentabilidades absolutas produz uma carteira altamente concentrada de grandes negócios de concessão localizados nos EUA. A análise aprofundada sobre as variáveis fundamentais procura identificar empresas com imobilizado incorpóreo difícil de copiar, com um elevado fluxo livre de tesouraria, negócios repetidos, forte rentabilidade sustentada do capital utilizado e uma gestão sólida. A gestão de risco ajuda a reduzir o risco absoluto, concentrando-se nos riscos de valorização e do negócio.
Returns
| | |
| --- | --- |
| Rent. Anualiz. % | 18/04/2019 |
| Ano | 21.98 |
| 3 anos anualiz. | 19.54 |
| 5 anos anualiz. | 20.40 |
| 10 anos anualiz. | 20.02 |
| | | |
| --- | --- | --- |
| Rendimento a 12 meses |   | 0.00 |
Gestão
Nome do gestor
Data de início
Dennis Lynch
22/06/2009
Alexander Norton
22/06/2009
Click here to see others
Criação do fundo
05/09/2008
Benchmark
Benchmark do fundo
Benchmark Morningstar
S&P 500 TR USD
Russell 1000 Growth TR USD
Target Market
Role In Portfolio
Standalone / Core
Não específico
Component
Não específico
Otro
Não específico
Primary Objective
Preservação
Não específico
Crescim
Sim
Renda
Sim
Hedging
Não específico
Otro
Não específico
O que o fundo tem  MS INVF US Advantage Z
31/03/2019
Morningstar Style Box®
Estilo de obrigações
Asset Allocation
 
% Long
% Short
% Net Assets
Acções
97.97
0.00
97.97
Obrigações
0.00
0.00
0.00
Liquidez
2.98
0.00
2.98
Outro
0.00
0.95
-0.95
| | |
| --- | --- |
| 5 principais regiões | % |
| United States | 85.39 |
| Canada | 8.64 |
| Eurozone | 3.84 |
| Latin America | 2.13 |
| United Kingdom | 0.00 |
5 maiores sectores
%
Technology
43.22
Consumer Cyclical
20.79
Industrials
18.80
Healthcare
12.61
Financial Services
3.09