Como se comportou este fundo
31/03/2019
Evolução de €1.000 (EUR)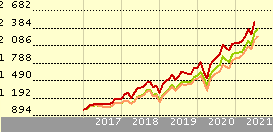 Fundo
25.5
3.7
18.7
8.5
17.8
+/-Cat
11.0
-1.8
7.2
7.3
0.3
+/-Ind
7.7
-6.5
4.3
5.1
-0.4
 
Benchmark: Russell 1000 Growth TR USD
Estatística Rápida
Valor
18/04/2019
 
USD 38.04
Valorização do dia
 
-0.21%
Categoria Morningstar™
 
Ações EUA Cap. Grande Crescimento
ISIN
 
LU0284526679
Fund Size (Mil)
18/04/2019
 
USD 757.29
Share Class Size (Mil)
18/04/2019
 
USD 107.75
Comissão Subscrição
 
-
Ongoing Charge
11/03/2019
 
0.02%

*  This rating and report were issued for a different share class of this fund. The performance and fee structure of this class may vary from that referenced.
Analyst Report
T. Rowe Price US Blue Chip Growth is a standout, earning a Morningstar Analyst Rating of Gold.Larry Puglia, manager since the strategy's inception in 1993 and two-time nominee for Morningstar's Domestic-Stock Fund Manager of the Year in the...
Click here to read this analyst report
Morningstar Pillars
People
Positive
Parent
Positive
Process
Positive
Performance
Positive
Price
Positive
Política de Investimento: T. Rowe Price US Blue Chip Eq J USD
To increase the value of its shares, over the long term, through growth in the value of its investments. The fund invests mainly in a diversified portfolio of stocks of large and medium sized ?blue chip? companies in the United States. The fund may use derivatives for hedging and efficient portfolio management.
Returns
| | |
| --- | --- |
| Rent. Anualiz. % | 18/04/2019 |
| Ano | 18.97 |
| 3 anos anualiz. | 20.22 |
| 5 anos anualiz. | 20.98 |
| 10 anos anualiz. | 20.48 |
| | | |
| --- | --- | --- |
| Rendimento a 12 meses |   | 0.00 |
Gestão
Nome do gestor
Data de início
Larry Puglia
05/02/2003
Criação do fundo
20/02/2007
Benchmark
Benchmark do fundo
Benchmark Morningstar
S&P 500 TR USD
Russell 1000 Growth TR USD
Target Market
Role In Portfolio
Standalone / Core
Não específico
Component
Não específico
Otro
Não específico
Primary Objective
Preservação
Não específico
Crescim
Sim
Renda
Não específico
Hedging
Não específico
Otro
Não específico
O que o fundo tem  T. Rowe Price US Blue Chip Eq J USD
31/03/2019
Morningstar Style Box®
Estilo de obrigações
Asset Allocation
 
% Long
% Short
% Net Assets
Acções
99.67
0.00
99.67
Obrigações
0.00
0.00
0.00
Liquidez
0.33
0.00
0.33
Outro
0.00
0.00
0.00
| | |
| --- | --- |
| 5 principais regiões | % |
| United States | 93.38 |
| Asia - Emerging | 5.81 |
| Canada | 0.69 |
| Europe - ex Euro | 0.12 |
| Latin America | 0.00 |
5 maiores sectores
%
Technology
31.47
Consumer Cyclical
22.13
Healthcare
19.64
Financial Services
13.19
Industrials
11.74